Description
Reviews
"Deadbeat heroes has a ton of personality packed into a package with fun gameplay. And that's honestly what it's all about. A game with fast action where you don't tire of beating up goons."
MSPowerUser
"While jumping around enemies and running along walls already feels pretty super, your character is still a normal chump until a superpowered villain arrives on the scene, at which point you can steal their powers with your 'super gauntlet' to become a caped crusader for a short length of time. Deadbeat Heroes mixes up this superhero theme with a distinctly British setting."
Kotaku UK
About This Game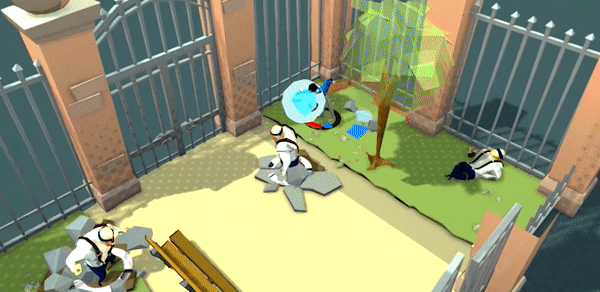 London's Super Heroes have been vanquished. Only the Deadbeat Heroes can put an end to dastardly evil-doers and their rotten plans!
Deadbeat Heroes is a movement based 3D brawler where you (and a friend) dodge bullets, steal super powers and crack wise. You play as the new wave of 'Deadbeat Heroes'. Not born with their own powers, they are armed with a prototype super gauntlet – which has the ability to 'borrow' the powers of others. You will (both) vie to win the hearts of the public with your amazing daring do, while not getting shot, sliced, lasered, exploded, vaporized, eaten…
KEY FEATURES:
Power Fists Forever – Choose from one of 10 explosive abilities including a rocket powered punch, freeze ray and invisibility
London's Streets – Over 35 levels set across London
Extreme Traversal – Wall Run & Air Dash through London
Alone or with a Friend – 1 to 2 player local campaign co-op
Twitch Streaming – Chat appears in the news ticker, chatters become baddies and are featured in end of level credits
Groovy Baby – A groovy cell shaded aesthetic bringing 70's style to the 21st century
Bringing the Bass – A funky original soundtrack created by Pitstop Productions
Dulcet Tones – Featuring the vocal talents Jim Howick and more
Do you have what it takes to save London's streets?